Just B is a little different to other accommodation options in Dartmouth..
we're as stylish as a hotel… but reasurringly less expensive.
we're a bit like a bed and breakfast.. but we're room only and you're not in someone's home so you can be free & independant.
We're a bit like self catering.. (actually we have lots of self catering apartments) but you don't have to stay a full week and we will make your bed, wash your dishes and take out the rubbish!
In short we have tried to pick out only the best elements of all of the above and model a new way to stay – We hope you enjoy it!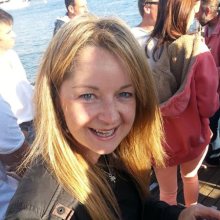 Lorna - Owner / dogs body!
Yes for those of you who stay fairly regularly, I have added to the family again with a new little girl!! Happy to report she is already an active member of the team and is, like her brother, handy with a drill.. albeit plastic! I set up Just B, eek, many years ago??? I'm sure I was in my 20's? It all started with St Elmo Cottage and since then we've regularly been adding great new locations. All our properties are exactly what I look for when we book our hols.. central location, well looked after, modern, clean and easy. I've lived in Dartmouth a long time, so if you need help with anything, days out, town info, where to eat (actually, I'm no longer that good at this, as since having 2 young sprogs - I hardly go out!) anything else.. just ask! Always happy to help to ensure you get the most out of your stay with us.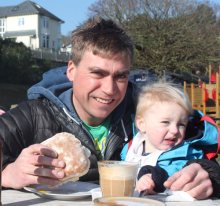 Simon - Maintinance man
You may have spotted he's holding a little boy... yes he's Lorna's other half, and that's our son! Simon runs Daymark Building Services and also helps us out with maintinance on our accommdation. Like his son, he's also handy with a drill.. it's ok his isn't plastic ;o)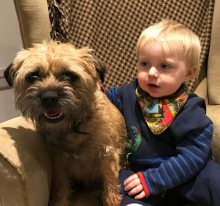 Rocket - Head of family fitness
Ok so it's actually hard to find photo's that our son is not in. Rocket is writing up her favourite local walks